Fetch, while not necessarily the newest or most feature rich FTP client out there, is also one of the most popular. Much of this may be due to history, having originally been released before the web even supported graphics. Simply put, Fetch is known for getting the job done, and for having done so long before the current players even came into play.
Although we recommend using NetFinder due to it being more current and having a more intuitive user interface, Fetch is still in use today on thousands of machines, and is a great tool in its own right.
You can visit the Fetch home page here:
http://www.fetchsoftworks.com/
Logging On
Upon running Fetch, you will receive a dialog box asking you for some information on where to connect.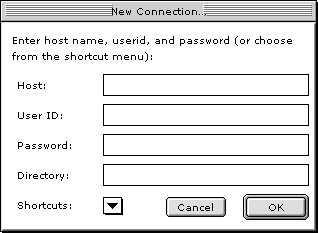 For the field labeled 'Host', you should type in your domain name. Usually this is in the form 'yourdomain.com'. You can also always use 'ftp.mrhost.ca' as the hostname.
In the next two fields, which ask you for a User ID and Password, you should provide your Mr.Host account username and password. Note that the password is shielded so that someone cannot read it over your shoulder.
For the directory field, there are a few options. If you leave it blank, you will be sent to the very root level of your account upon logon. If you wish to be taken to the root of your web directory, where your site is stored, you should provide it in the form shown in the picture above (if you have a subdomain, you can use that instead).
How To Upload Files
Once you are connected, you will be presented with a screen that shows you a listing of what is in your current directory. For example: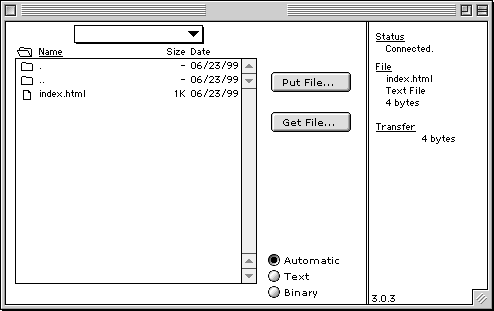 Here, you can see any files and directories contained within your current directory, which is accessable from a popdown menu toward the top of the window (this is also where you can access its parent directory).
To upload a file, simply click on the 'Put File…' button on the right side of the window. You will be prompted for a file to upload. To upload multiple files, you can simply drag a folder or multiple selection of files from the Finder onto Fetch. This allows you to upload your entire site with ease. To download a file or group of files, you merely need to select whichever files and/or directories you wish to make a local copy of and hit the 'Get File…' button.
Other functions you can perform include deleting, renaming, and getting information on selected files and directories. Most of these functions are available from the Remote menu.
One function in particular which may be of great use to CGI programmers is the 'Set Permissions…' option. This feature allows you to change the permissions for a given item. Another, almost identical option is 'Set Upload Permissions…' which allows you to change the permissions of the current directory you reside in.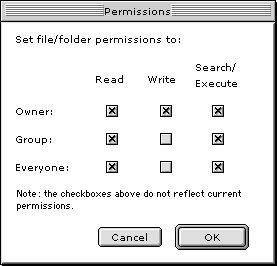 Fetch contains a decent set of features and is known to work well with Mr.Host's servers. Although it doesn't have quite the feature set that some of the more modern FTP clients boast, it has been a staple of the Macintosh Internet community for some time.