Entourage is Microsoft's premier Mac e-mail client, and is included with their Microsoft Office for Macintosh product.
You can set Entourage up to work with your Mr.Host account by launching the Microsoft Entourage application and following the following directions.
1. With Entourage running, select "Accounts" from the Tools menu.
2. A window should appear with the currently defined e-mail accounts set up to work with Entourage (if there are any).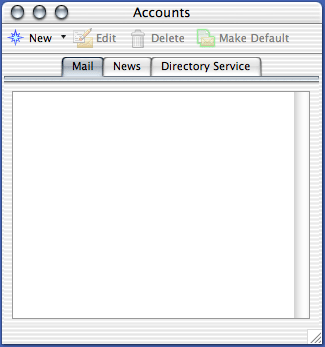 3. Click on the "New" button. A small window such as the one shown below should appear. If not, click on the "Configure account manually" button.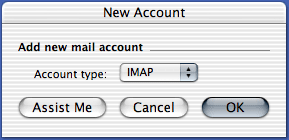 4. Select "IMAP" from the Account type select menu, then click on the "OK" button. An account editing page should appear.
5. Type anything you want under Account name. We recommend something short, easy to remember, and easily distinguishable from any other e-mail accounts you may have.
6. Type in your name under Name. Technically, this can be anything that you want.
7. Type your full e-mail address into the E-mail address field. This is the address people will reply to when they respond to a message from you.
8. Type your FULL e-mail address as your username.
9. In the IMAP server field, type "mail.mrhost.ca"
10. Type your e-mail password into the Password field. Make sure to type it exactly as it is defined (ie. upper-case letters must actually be capitalized).
11. In the SMTP server field, type "smtp.mrhost.ca"
12. Click on the "Click here for advanced server options" button. The following dialog box will appear: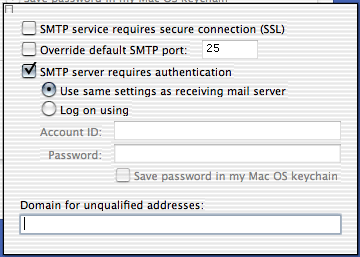 13. Check the "SMTP server requires authentication" checkbox.
14. Close the dialog box by clicking on its close button, then click the "OK" button. Finally, close the Accounts window.
Your e-mail account should now be configured correctly, and you should be able to check your e-mail using Microsoft Entourage. If you run into any problems, have any questions, or can't get it to work please don't hesitate to contact Mr.Host customer support.